Put on your dancing shoes and join us on Thursday, April 13 at 6:30 as we kick off the festival with the Come-See-Me Parade! This year's theme is "Dancing Into Spring" so start planning your parade entry now! We look forward to seeing you as we celebrate spring in Rock Hill!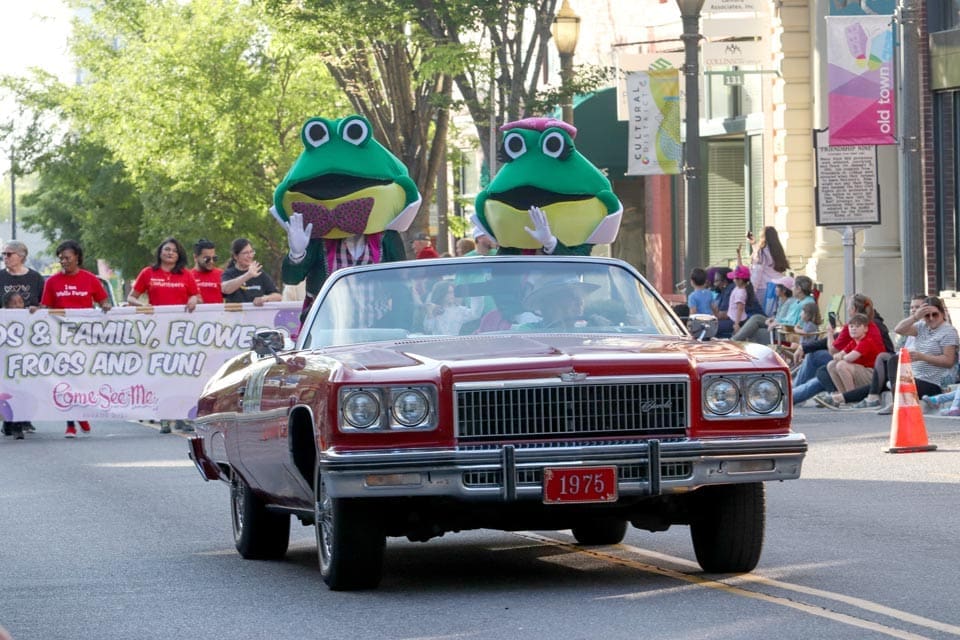 Commercial
Business / Individual
Each of the following constitutes one unit:

Up to two cars/trucks/vans

Up to four golf carts

Up to eight motorcycles

Up to 25 walkers

One float with appropriate towing vehicle or one car/truck with trailer
Non-Profit
501(c)3 Status
Each of the following constitutes one unit:

Up to two cars/trucks/vans

Up to four golf carts

Up to eight motorcycles

Up to 25 walkers

One float with appropriate towing vehicle or one car/truck with trailer
Entries Are Limited
Entries are limited in this event and submitting an application does not assure acceptance into the parade. Prospective entrants must include a complete description of their unit on the application. The Parade Committee will review applications to ensure all entries are appropriate. Entry fee is due at time of application. If you receive a return email with instructions on next steps, your application has been accepted. We will return the fee if your application is not accepted.
Application Deadline
Application deadline is Friday, March 31, 2023. Approved entrants will be notified by Wednesday, April 5. Upon approval, entries will receive specific assembly and line-up information. The contact person will be required to attend a mandatory Parade meeting on Tuesday, April 11, at 6:30 p.m. at the Glencairn Garden Learning Center. That person will be responsible for distributing information to the participants in his or her unit.
RULES AND REGULATIONS
Entry Information
Entries must observe all rules and regulations, in addition to adhering to police and parade official instructions. The Come-See-Me parade committee reserves the right to remove any entrant from the parade at any time (prior to assembly, at assembly, and any time during the parade) if they fail to observe rules, regulations, or standards of reasonable public safety and moral standards.
Any and all sponsors (businesses, organizations, media, etc.) must be listed on the parade application. Upon arrival at assembly, entries not conforming to the description on the application may be prohibited from participating in the parade.
Behavior
All Come-See-Me Parade participants agree to follow the instructions of the Come-See-Me Festival regarding all matters related to the parade. Parade matters include, but are not limited to: (1) adjustments to parade entry vehicles, individuals, and/or characters, (2) parade placement, (3) parade conduct, and/or (4) parade messaging. The Come-See-Me Festival reserves the right to revoke an entry or any individual participant associated with an entry at any time (including during the parade) for any conduct the festival's parade team leaders and/or festival leadership deem problematic. Each participant understands and agrees that its entry fee is non-refundable.
Entries may not distribute gifts, candy, merchandise, literature, or any other material along the parade route.
Alcohol is forbidden on any float, in any vehicle, and on any participant. Participants consuming alcohol prior to or during the parade will be removed from the line-up.
Refrain from using the parade as a platform for political campaigns, social issues, and targeted special groups.
Children
Floats more than 30 inches high which are transporting children must have side rails a minimum of three feet above the floor of the unit.
To ensure rider safety, all children must be unloaded from float at the end of the parade route.
Parents or other responsible adults (18 or older) must be at the end of the parade route to pick up their children.
The adult chaperone to children ratio must be 1:10 for ages 6 to 12, 1:5 for children under 6.
Decorations/Themes/Motorized Operations
Livestock, reptiles, and wild and domestic animals shall not be in the parade unless receiving written approval by the parade committee.
Use of fire or any open flame is strongly discouraged and must have written permission from the parade committee.
It is recommended that all floats carry a fire extinguisher.
ALL motorized (gas or electric) vehicles must be operated by a person with a valid, state-issued motor vehicle operator's license.
No firearms, real or replicated, are allowed in the parade unless special written approval by the parade committee is obtained.
Performances/Maneuvers
The parade committee will enforce spacing of no less than 30 feet between units. Performing units should plan routines which do not require that the unit stop. Units should always be moving as to not hinder the progress of the parade.
UNIT DESCRIPTIONS
Please read the following entry requirement guidelines. Only the first 80 accepted entries will be given entry in this year's parade. Once we reach capacity, no additional units will be accepted.
The following constitutes one unit:
Up to two cars/trucks/vans
Up to four golf carts
Up to eight motorcycles
Up to 25 walkers
One float with appropriate towing vehicle or one car/truck with trailer
All entered units must have definable and realistic sponsorship, or represent a definable and realistic group or organization.
Vehicle Units: One unit consists of up to two cars, two trucks, two vans, four golf carts, eight motorcycles or a combination of any two vehicles and two golf carts.
Walking Units: There is a 25 person maximum per unit.
Float Units: Homemade floats – one vehicle with one trailer. Must meet safety requirements if carrying children.
Unit Fees
Non-commercial unit: $35 (nonprofit with 501(c)3 status)
Commercial unit: $50 (for profit group/business/individual)