Souvenirs are one of the most highly-anticipated parts of the Come-See-Me Festival! Don't miss the chance to get this year's official festival logo on a T-shirt. Plus, we have plenty of fun items for people of all ages, including this year's Come-See-Me Festival Coloring Book!
Pre-Festival Souvenir Sales
You don't have to wait until Come-See-Me starts to buy your souvenirs! T-shirts, hats, buttons, and more will be available at the following locations from February 23 until April 9. Please note that souvenirs will only be available at select events once the Come-See-Me Festival begins.
Freeman's Dry Cleaning – 1045 Camden Avenue
Comporium – 331 East Main Street, Suite 101 (Fountain Park Place)
City of Rock Hill PRT – 114 East Black Street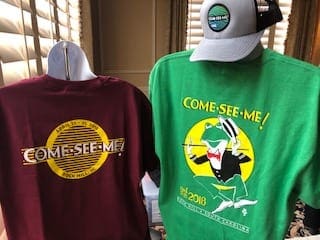 Souvenir Sales at Festival Events
Souvenir sales will take place at the following locations during the Come-See-Me Festival. Please note that souvenir selection is dependent upon availability.
You can also purchase your souvenirs during Come-See-Me at the following locations:
Comporium – 331 E Main Street, Suite 101 (Fountain Park Place)
Freeman's Dry Cleaning – 1045 Camden Avenue