Each year, people all over Rock Hill and York County look forward to the Come-See-Me Festival's logo unveiling. In addition to seeing the official festival poster for the first time, the unveiling ceremony is also the first opportunity to check out the official festival souvenirs. In addition to the traditional logo T-shirts, there are several exciting additions to the souvenir lineup for the 2017 festival.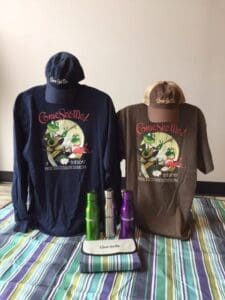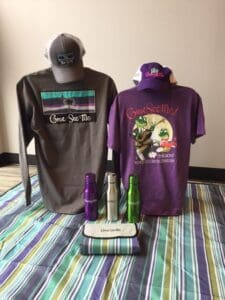 We're introducing long-sleeved and short-sleeved shirts, plus a hat, in a new palmetto sunset design. A new festival hat featuring Glen the Frog and the signature festival script is also available.
Additional items for sale include stainless steel water bottles and picnic blankets—perfect for you to use throughout the week.  Whether you're enjoying music at Glencairn Garden or preparing your picnic and beverage of choice for Moonlight Jazz & Blues or Tailgate Party, these are the perfect items to bring with you.
Children can get in the spring spirit, too! We have festival logo T-shirts for Glen's smallest friends, as well as the new Come-See-Me Festival Coloring Book. The coloring book includes an entry form for the 2017 Come-See-Me Festival Coloring Contest.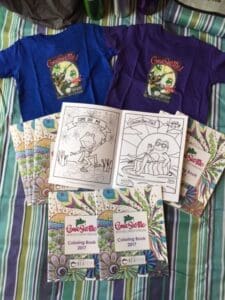 Ready to show your hometown pride for South Carolina's largest all-volunteer festival? You don't have to wait until the events kick off on April 20! Souvenirs are available now at three locations in Rock Hill: the Parks, Recreation, and Tourism office at City Hall; the Comporium retail office at Fountain Park Place; and Freeman's Dry Cleaning on Camden Avenue.
Once the festival begins, these and additional souvenirs will be available at select festival events, as well as at the Comporium retail office at Fountain Park Place and Freeman's Dry Cleaning.
Please note that souvenir selection is dependent upon availability—so don't wait! Get your Come-See-Me Festival souvenirs today!