Apr
4
Thu
Parade

@ Downtown Rock Hill
Apr 4 @ 6:30 pm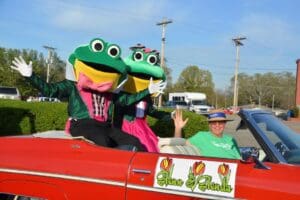 Sponsored by Wells Fargo
Music has the power to unite and that is just what we're celebrating in the 2019 Come-See-Me Parade! "Rocking Rock Hill" will showcase music and bands from every era and genre of music. From Elvis to Panic at the Disco, we want to hear and see them all! Join Glen and Glenda for this year's Come-See-Me Parade to celebrate everything we love about music. Entry forms are available at comeseeme.org and must be submitted by Friday, March 15. The parade committee will review entry forms for theme adherence and creativity. Please include the genre of music you intend to play or represent. Entry fee for each parade unit will be $50 and is due by Monday, April 1st.
NEW PARADE ROUTE FOR 2019:
The parade will begin at 100 East Main Street, then continue up Main Street. The route will turn right onto Elizabeth Lane at Fountain Park, then right on Black Street. The parade will end at the Black Street and Saluda Street intersection.
Thank you in advance for leaving your pets at home. Participants may not throw items from floats or vehicles. Canceled in the event of rain.
Apr
5
Fri
Chalk on Main

@ Fountain Park
Apr 5 @ 4:30 pm – 7:00 pm
Sponsored by Jackson Pediatric Dentistry
Looking for a unique way to express yourself? Come join us to help transform Main Street into a bright and colorful street museum, adorned in vivid pastel chalks. Artists of all ages are invited to transform this asphalt canvas into a beautiful masterpiece. This is a FREE signature event and chalk will be provided.
Musical Mania

@ Fountain Park
Apr 5 @ 4:30 pm – 6:30 pm
Beach Bash

@ City Hall Plaza
Apr 5 @ 5:30 pm – 10:00 pm
Sponsored by America's Swimming Pool Company, Burns Chevrolet and Burns Ford of York, Morton & Gettys, Smile Doctors Braces by Tripp Leitner Orthodontics, and Springs Creative Products Group
Join us for the annual Beach Bash. Bring the family and enjoy your favorite beach hits and dance music from the 17South party band on the Founders Federal Credit Union Stage. Local food trucks and restaurants will be on site serving delicious food for you to savor. To purchase alcoholic beverages, you must show valid ID. Beverage tickets ($5) are required for purchase of alcohol. CASH ONLY. Bring your lawn chair and dancing shoes! No pets or coolers.
Live Music:
5:30pm – 17South
Apr
6
Sat
Come-See-Me Road Races

@ Winthrop Coliseum
Apr 6 @ 7:30 am
Sponsored by Krystal Myers Teague DMD, Schiller & Hamilton Law Firm, Walk2Campus Properties, and Whitesell Investigative Services
Fun Run (7:30 am) – Run at Winthrop Coliseum/Lake. Strollers are allowed. Free, no registration required. Medals will be presented to participating children 12 and under.
5K and 10K (8:00 am) – USATF-certified 5K (3.1 mile) course and USATF-certified 10K (6.2 mile) course on paved streets passing through beautiful residential areas. Gift cards awarded to overall male & female winners and male & female master (40 years of age and older) winners. Registration fee for 5K is $35 (pre-register by Friday, March 29 for $30) and 10K is $55 (pre-register by Friday, March 29 for $50).
Download the 5K route course map.
Download the 10K route course map.
Register online today. Race-day registration available from 7-7:30 am. Please arrive 30 minutes before your scheduled race. All runners are asked to bring a pair of old athletic shoes to be recycled. Abundant parking available. Race T-shirt guaranteed to first 500 registrants. Rain or shine. Race packet pickup will be held at Winthrop Coliseum from 3-7pm on Friday, April 5. Please contact [email protected] for additional information.
Healthy Kids Zone

@ Giordana Velodrome at Rock Hill Outdoor Center
Apr 6 @ 10:00 am – 12:00 pm
Sponsored by Boy Scouts of America, Elite Heating and Air Conditioning, and Riverwalk Academy
Bring the whole family to enjoy tons of fun outdoor activities for kids. Tricycle and bike races around the Velodrome, fun fitness dance sessions, sports inflatables, face painting, taste testing table, and lots more! The first 500 children will receive Healthy Kids Goody Bags. Canceled if rain.
Gourmet Gardens

@ Winthrop Lake
Apr 6 @ 11:00 am – 4:00 pm
Sponsored by ArrowPointe Federal Credit Union, Brian Murphy Law, Cabela's, Piedmont Dental Partners, Renewal by Anderson, and York Technical College.
Spend the day with family and friends savoring the flavors of local food vendors and enjoying music and games in the kid area. Take a leisurely stroll around Winthrop Lake to enjoy all the events Come-See-Me has to offer. Food and access to the play area are CASH ONLY. Founders Federal Credit Union ATM will be on the premises.
Cornhole Throwdown

@ Winthrop Lake
Apr 6 @ 12:00 pm
Compete in the Come-See-Me Cornhole Throwdown by Winthrop Lake in Rock Hill. Male, female, and co-ed teams of two will compete for cash prizes for the top three spots! Round Robin tournament format, random seeding. Top two teams of each flight advance to a single elimination tournament. Register online for $40 per team. Event day registration is $50 per team. Registration fee is non-refundable and non-transferable. Teams must check in by 11:45 am, bags fly at 12 pm.
Mayor's Frog Jump

@ Winthrop Lake
Apr 6 @ 12:00 pm – 2:00 pm
Sponsored by Miller & Dixon Orthodontics
Coordinated by Comporium
On your mark, get set, JUMP THOSE FROGS!! The Mayor's Frog Jump is one TOADally exciting event that you do not want to miss. Feel free to bring your own frog or borrow one of ours and JUMP into the fun. Registration begins at 11:30 am and the race starts promptly at 12. Prizes will be awarded at 2 pm to the top three FROGtastic winners. See you on race day!
Hops at the Park

@ Winthrop Lake
Apr 6 @ 2:00 pm – 7:00 pm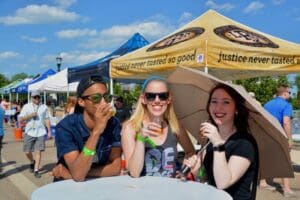 Sponsored by Hospitality Heating & Air, B & B Distributors, and Comer Distributing Company
Round up your friends and hop on over to the 3rd annual Hops at the Park! Taste approximately 40 of the best craft beverages in the Carolinas in our sampling garden or purchase your full-size favorites. Enjoy live music and food while you relax around beautiful Winthrop Lake.
General Admission: Beverages (beer and wine) in the general admission area may be purchased from 2pm-7pm for $5 each. All guests over 21 must present ID to receive a general admission wristband, which is required for beverage purchases.
VIP: From 2pm-6pm, enjoy unlimited tastings in our VIP sampling garden. Wristbands for unlimited tastings are $30 in advance/$40 day of event. Purchase online through Eventbrite. Must be 21 and have purchased a VIP wristband to enter the VIP area. IDs will be checked at the event.
A variety of food options and Coke products will be available for sale onsite. No coolers or pets. May be cancelled due to weather. No refunds on event-day ticket purchases.
The Come-See-Me Festival encourages responsible drinking. Plan ahead to take a cab, use a ride-sharing service, or have a friend drive you to and from Hops at the Park. There will be a designated area for pickup and dropoff at the event.
Breweries scheduled to appear (subject to change/availability) include:
Live Music:
2:00pm – The Smokin' J's
4:30pm – The Shana Blake Band