Apr
16
Thu
Parade

@ Downtown Rock Hill
Apr 16 @ 6:30 pm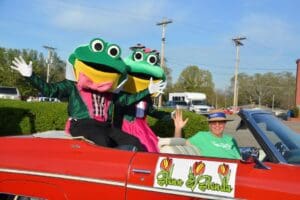 Sponsored by Wells Fargo
We've got 2020 vision and all we are seeing for the 2020 Come-See-Me Parade is red, white, and blue! Grab your friends, family, and neighbors, and join Glen and Glenda on Thursday, April 16th 2020 at 6:30 pm for a night of fun and celebration at the Red, White and Rock Hill Come-See-Me Parade! Entry forms are available at comeseeme.org/parade-registration. The parade committee will review entry forms for theme adherence and creativity. Please include the genre of music you intend to play or represent.
NEW PARADE ROUTE FOR 2020:
The parade will begin at 135 South Oakland Avenue, and continue up to E. White Street. Then on to E. Main Street, ending at Fountain Park.
Thank you in advance for leaving your pets at home. Participants may not throw items from floats or vehicles. Canceled in the event of rain.
Apr
18
Sat
Come-See-Me Road Races

@ Winthrop Coliseum
Apr 18 @ 7:45 am
Sponsored by Krystal Myers Teague DMD, Schiller & Hamilton Law Firm, and Walk2Campus Properties
Fun Run (7:45 am) – Run at Winthrop Coliseum/Lake. Strollers are allowed. Free, no registration required. Medals will be presented to participating children 12 and under.
5K (8:15 am) and 10K (8:30 am) – USATF-certified 5K (3.1 mile) course and USATF-certified 10K (6.2 mile) course on paved streets passing through beautiful residential areas. Gift cards awarded to overall male & female winners and male & female master (40 years of age and older) winners. Registration fee for 5K is $35 (pre-register for $30) and 10K is $55 (pre-register for $50).
Download the 5K route course map.
Download the 10K route course map.
Register online today. Race-day registration available from 7-7:30 am. Please arrive 30 minutes before your scheduled race. All runners are asked to bring a pair of old athletic shoes to be recycled. Abundant parking available. Race T-shirt guaranteed to first 450 registrants. Rain or shine. Race packet pickup will be held at Winthrop Coliseum. Please contact [email protected] for additional information.
Healthy Kids Zone

@ Giordana Velodrome at Rock Hill Outdoor Center
Apr 18 @ 10:00 am – 12:00 pm
Sponsored by Champions Gymnastics, Riverwalk Academy, and Smile Doctors
Bring the whole family to enjoy tons of fun outdoor activities for kids. Tricycle and bike races around the Velodrome, fun fitness dance sessions, sports inflatables, face painting, taste testing table, and lots more! The first 500 children will receive Healthy Kids Goody Bags. Canceled if rain.
Gourmet Gardens

@ Winthrop Farm
Apr 18 @ 11:00 am – 4:00 pm
Sponsored by ArrowPointe Federal Credit Union, Piedmont Dental, and Woof Park Lodge
Spend the day with family and friends savoring the flavors of local food vendors and enjoying music and games in the kid area. Take a leisurely stroll around Winthrop Lake to enjoy all the events Come-See-Me has to offer. Food and access to the play area are CASH ONLY. Founders Federal Credit Union ATM will be on the premises.
Mayor's Frog Jump

@ Winthrop Farm
Apr 18 @ 12:00 pm – 2:00 pm
Sponsored by Miller & Dixon Orthodontics
Coordinated by Comporium
On your mark, get set, JUMP THOSE FROGS!! The Mayor's Frog Jump is one TOADally exciting event that you do not want to miss. Feel free to bring your own frog or borrow one of ours and JUMP into the fun. Registration begins at 11:30 am and the race starts promptly at 12. Prizes will be awarded at 2 pm to the top three FROGtastic winners. See you on race day!
Cornhole Throwdown

@ Winthrop Farm
Apr 18 @ 2:00 pm
Compete in the Come-See-Me Cornhole Throwdown by Winthrop Farm (Near Winthrop Lake) in Rock Hill. Male, female, and co-ed teams of two will compete for cash prizes for the top three spots! Round Robin tournament format, random seeding. Top two teams of each flight advance to a single elimination tournament. Register online for $40 per team. Event day registration is $50 per team. Registration fee is non-refundable and non-transferable. Teams must check in by 1:45 am, bags fly at 2 pm.