Apr
16
Thu
Parade – 'An American Celebration'

@ Downtown Rock Hill
Apr 16 @ 6:30 pm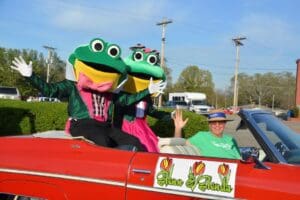 Sponsored by Wells Fargo
We've got 2020 vision and all we are seeing for the 2020 Come-See-Me Parade is red, white, and blue! Grab your friends, family, and neighbors, and join Glen and Glenda for a night of fun as the Come-See-Me Parade becomes 'An American Celebration!' Entry forms are available at comeseeme.org and must be submitted by Friday, March 20.  The parade committee will review entry forms for theme adherence and creativity.  Please include any type of music if you intend to provide any as a part of your entry. Entry fee for each parade unit will be $50 and due by Monday, April 1st.  Please contact [email protected] or 803-329-7625 for additional information.
NEW PARADE ROUTE FOR 2020:
The parade starts at 100 East Main Street and will proceed up East Main Street. The parade will turn right on Elizabeth Lane, right on Black Street and end at Saluda Street, after wrapping around Fountain Park.
Thank you in advance for leaving your pets at home. Participants may not throw items from floats or vehicles. Canceled in the event of rain.
Apr
17
Fri
Chalk on Main

@ Fountain Park
Apr 17 @ 4:30 pm – 7:00 pm
Sponsored Cranford Dental & Whitesell Investigative Services
Create and experience art that isn't in a gallery-it's on the pavement! Help us transform Main Street into bright and colorful street art! Artists of all ages are invited to enjoy great tunes, have fun and let their creative side out during this FREE signature event! Chalk will be provided.
Musical Mania

@ Fountain Park
Apr 17 @ 4:30 pm – 6:30 pm
Sponsored by Rinehart Realty Corporation
Enjoy beautiful Fountain Park while kids experience a variety of music and hands-on play with an assortment of instruments.  Join Glen and Glenda in the Kazoo Parade at 6:30pm sharp!  Complementary Come-See-Me kazoos are provided.  Please visit the homepage to download our mobile app for additional information and weather-related updates.
Beach Bash

@ City Hall Plaza
Apr 17 @ 5:30 pm – 10:00 pm
Sponsored by Burns Chevrolet and Burns Ford of York, Edward Jones Investments, and Springs Creative Products Group
A night of beach music, food, and fun! Bring family and friends to enjoy the amazing party band, Bantum Rooster, on the Founders Federal Credit Union Stage. Food trucks and restaurants will be onsite. To purchase alcoholic beverages, you must show valid ID. Beverage tickets are $5 each. CASH ONLY. No pets or coolers.
Apr
18
Sat
Come-See-Me Road Races

@ Winthrop Coliseum
Apr 18 @ 7:30 am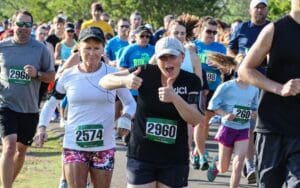 Sponsored by Krystal Myers Teague DMD, Schiller & Hamilton Law Firm, and Walk2Campus Properties
The Come-See-Me Road Races will take place on the beautiful, paved, residential streets of Rock Hill. Thanks to the support of our participants and sponsors for making this a fun and healthy way to celebrate Come-See-Me. The event has USATF-certified 5K (3.1 miles) and 10K (6.2 miles) courses along with a 1 mile Fun Run. In response to positive feedback we are maintaining the same courses from Spring 2019. Our finish line area offers a great post-race atmosphere including sponsor tents, music, Start2Finish results, and plenty of runner refreshments including food and beer (1 beverage for 21+ registrant *Bring valid ID)
Fun Run (7:30 am) – Run at Winthrop Coliseum/Lake. Strollers are allowed. Free, no registration required. Medals will be presented to participating children 12 and under.
5K (7:30 am) and 10K (8:00 am) – Registration required. USATF-certified 5K (3.1 mile) course and USATF-certified 10K (6.2 mile) course on paved streets passing through beautiful residential areas. Gift cards awarded to overall male & female winners and male & female master (40 years of age and older) winners. Registration fee for 5K is $35 (pre-register for $30) and 10K is $55 (pre-register for $50).
5K/10K prices:
$25/$45 until March 18;
$30/$50 March 19-31;
$35/$55 April 1-16;
$40/$60 April 17&18
Download the 5K route course map.
Download the 10K route course map.
Healthy Kids Zone

@ Giordana Velodrome at Rock Hill Outdoor Center
Apr 18 @ 9:00 am – 11:00 am
Sponsored by Champions Gymnastics, Riverwalk Academy, and Smile Doctors
Family-friendly outdoor activities including trike and bike races around the Velodrome, fun fitness dance sessions, sports inflatables, and face painting.  Grab their bike helmet because kids can bring their bikes or ride one of ours! The first 500 children will receive Healthy Kids Goody Bags. Canceled if rain.
Mayor's Frog Jump

@ Winthrop Farm
Apr 18 @ 10:00 am – 12:00 pm
Sponsored by Miller & Dixon Orthodontics
Coordinated by Comporium
On your mark, get set, JUMP THOSE FROGS!!! The Mayor's Frog Jump is one TOADally exciting event you don't want to miss. Feel free to bring your own frog or borrow one of ours and JUMP into the fun. Registration begins at 9:30 a.m. and the races starts at 10:00 a.m. sharp! Prizes will be awarded at high noon to the top three FROGtastic winners. See you on race day!!!
Gourmet Gardens

@ Winthrop Farm
Apr 18 @ 11:00 am – 5:00 pm
Sponsored by Adventure Air Sports, ArrowPointe Federal Credit Union, Burrow & Welchel Orthodontics, Piedmont Dental, and Woof Park Lodge
Gourmet Gardens is all about having a good time with great food!  Come out and enjoy some of your local favorites as well as some new and exciting cuisine.  There will be a wide variety from which to choose, so everyone can come hungry and leave happy!  For the safety of our pets and our patrons, no pets are allowed.
Cornhole Throwdown

@ Winthrop Farm
Apr 18 @ 12:00 pm
Cornhole, Baggo, Bags, Bean Bag Toss. Call it what you will, but come compete at the 7th
Annual Come-See-Me Cornhole Throwdown!  Teams of two (2) will compete for cash prizes for the top 3 spots!!!
Bags fly at 12 pm . All teams must be checked in by 11:45 am. Register Online for $40.00 entry fee per team. Day of registration is $50.00 per team. Entry fees are non-refundable, and entries are non-transferable. Male, female, and co-ed teams allowed. Round Robin Tournament Format with seeding determined at random.
The top two teams of each flight will advance to a single elimination tournament. There will be 2 divisions, Championship and Recreational.
Hops at the Park

@ Winthrop Farm
Apr 18 @ 2:00 pm – 7:00 pm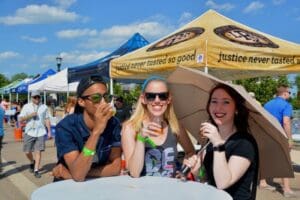 Sponsored by Hospitality Heating & Air, B&B Distributing, Inc., Comer Distribution Company, and O'Darby's Fine Wine & Spirits
Round Up your friends and Hop on over to the 4th Annual Hops at the Park! Enjoy Live Music, food and beverages while relaxing near Winthrop Lake. Taste approximately 40 various craft beverages from around the Carolinas in the Sampling Garden, or purchase other full size favorites individually.  Sampling garden passes are $35 and only available at the door this year.  Full size beers outside of the sampling garden are $5.  ID required to enter the garden or purchase beverages.  This is a CASH ONLY EVENT.  ATMs will be onsite.
The Sampling Garden is open from 2pm-6pm. Full-size beverage tickets are available from 2pm-7pm. Food vendors will be on site with concessions available for purchase as well. Must be 21 or over to purchase Beverage Tickets. ID's will be checked at the Event. Please note that NO ONE UNDER 21 ALLOWED in the SAMPLING GARDEN. No pets or coolers and the Event may be cancelled in the event of Inclement Weather.