Now that the 2018 Come-See-Me Festival logo has been revealed, it's time to purchase your official festival souvenirs! Souvenir pre-sales are going on now through April 9. Visit one of the following local businesses in Rock Hill to outfit your whole family before the festival begins!
Freeman's Dry Cleaning (1045 Camden Avenue)
Comporium (Fountain Park Place, 331 East Main Street, Suite 101)
City of Rock Hill PRT (114 East Black Street)
Here's an overview of the items on sale now:
An assortment of T-shirts for adults and children: Show your love for Come-See-Me on your sleeve by picking up one or more of our official festival T-shirts! Shirts are available in a variety of colors and styles for adults, including a long-sleeve version. Kids' shirts are also available.
Drinkware: Carry your beverage of choice in our festival-branded insulated drinkware. Two styles are available for purchase.
Hats: This year's festival hat will be one of your favorites for years to come.
Coloring books: The Come-See-Me Festival coloring book returns for a second year with more designs from local artists. It's fun for all ages!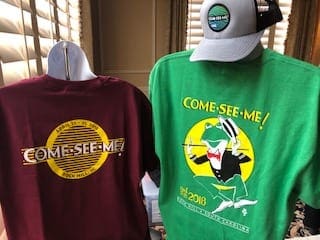 Additional items may be for sale at certain festival events. If you're out at any of the following places, be sure to stop by the souvenir tent to check out the selection. (Please note that inventory is dependent upon availability.)
You may also purchase souvenirs during the festival at Comporium's Fountain Park Place retail store and Freeman's Dry Cleaning.
We hope you're making your plans to enjoy this year's festival. It's just a few weeks away so get your souvenirs now for the best selection!